Membership Includes:
Everything You Need For Next Level Playing
Over 800 Interactive Video Guitar Lessons

Monthly Live Workshops

Backing Tracks, Guitar Pro Files, PDFs, Progress Tracking & More!

Access to 4 Bonus eBook Licks & Fills Packages

50 Professionally Produced Backing Tracks – Courtesy of Petti Music Studios

One-On-One Assessment Call w/ Rick (Platinum members)

A Personalized Lesson Plan & Roadmap To Success (Platinum members)

Video Submissions & Feedback (Platinum members)

New Lessons Added Weekly
As a Platinum Member you can work directly with me...
"And Learn to Play 
Play Funk, R&B/Soul and Blues With More Freedom, Groove, Feel & Emotion…"
Hey, it's Rick here! 
If you're on this page, right now I wanna welcome you… 
And Let me ask you…
Have you hit a plateau? Are you playing the same stuff over and over again… and confused on what you should be practicing next?
Do you feel frustrated, in a hopeless rut and just not really moving forward?
Would you love to improvise and actually enjoy what your hearing?
Are you looking to learn how to sit in the pocket and groove with your rhythm playing and also create fills that connect chords beautifully?
Do you want to have the freedom to play all over the neck instead of being stuck in the same old boxes and patterns?
Do you want to play smooth and tasteful with expressive phrasing, play over chord changes with grace and ease, and finally put it all together on the guitar?
If you said yes to ANY of these questions, then you're in for a real treat...
... and it doesn't matter if you've failed at other online guitar courses… 
Or you've spent months or years trying to figure out how to improve on guitar — but it's just left you feeling more and more frustrated, overwhelmed, confused and stuck…  
Or you feel like you are past the point of improving…
I get it… 
And I want you to know…
You're not alone! 
After 30 years of teaching hundreds of students across the world, I figured out a method — through lots of trial and error —  that shortcuts the learning curve to accelerating your guitar playing and taking you to the next level. 
First, let me be clear...
Online Guitar Learning is Broken
Yeah, I know, that is a pretty shocking statement coming from a guy trying to sell you on his online guitar course lol... but Tasty Guitar is different...
Let me explain...
Up until now you've had 2 choices for learning the guitar:
1. Take private lessons from a local teacher or online teacher...
OR
2. Learn on your own from what ever you can get your hands on... music, books...but these days most likely YouTube and online courses.
There are advantages and disadvantages to both:
First, private instruction is the way to go if... 1) you can find a GREAT teacher who can also really play and is very knowledgable in the styles you want to focus on. 2) You can afford it.
Finding a really excellent guitar teacher is very tough, especially if you are outside a major city. Most of the guys in my hometown who I looked up to when I started out were great players, but lousy teachers lol. Or you may find a guy who is a great rock or metal teacher but very limited in their ability or knowledge in other styles... especially of Funk, R&B/Soul & Blues.
Also, if you do manage to find the perfect teacher for you, private lessons are expensive. Any decent teacher these days will be $60 + per hour.
Next, let's talk about the pros and cons of learning on your own online.
Well, on the plus side it can be as cheap as $0... but that is where the D.I.Y. advantage ends.
The drawbacks are numerous:
You are totally on your own.
The sheer volume of online content on YouTube seems like it should be a good thing but most students quickly learn they are in way over their head and have no clue where to start, what to focus on or how to practice. 
Even with some of the larger guitar websites that kinda give you some structured courses, you really have no way of knowing what courses you are ready for, or if you are playing anything right once you get started. Really it's like learning on YouTube with better TAB and some backing tracks.
... but now the great news
Platinum Membership Bridges the Gap Between Private Lessons and the Online Do-It-Yourself Approach to Learning Guitar… 
What I have learned over three decades as a guitar teacher is that in order for a student to make consistent progress, they must have a well-crafted roadmap for both learning and practicing. 
They must have access to the best learning tools that make practicing both productive and fun.
And, most importantly, they must get guidance and feedback from a great instructor every step along the way... keeping them on track and moving forward.
Over many years I slowly developed a program and system that does all this and MORE... 
Helping you break out of that rut and open up new creative pathways that make you really stand out as a guitar player. 
How can I take you to the guitar promised land? 
You might be wondering who I am and why I'm the guy who's gonna get you to the next level in Funk, R&B/Soul and blues guitar playing. 
Let me introduce myself if we haven't already met… 
My name is Rick Stickney and my love for music started as a young kid listening to 70's radio… 
Great music was always playing around the house and it inspired  me to scrape together $100 and buy a cheap strat copy in my local pawn shop at the age of 15.
I didn't know that day, but my life would never be the same. 
I began to teach myself and absorb everything I heard… From the soulful tunes of George Benson and Marvin Gaye to smokin' licks from blues giants such as BB King and SRV and Robben Ford and the incredible funk grooves of The Meters and Tower of Power.
This passion for music led to a 30+ year career as a professional musician playing over 5000 gigs to audiences large and small, all over the world...
From playing bars and clubs in my hometown in Washington state, to performing at the top casinos and shows in Las Vegas... and playing with vocalist Joseph Williams of TOTO in Tokyo. 
I even got to share the stage with legendary bassist Marcus Miller which was a huge honor!  
These days I'm still an active professional musician but also enjoy a much quieter life teaching guitar and helping other people experience the same creative joy that's brought me so much happiness over the years. 
Over the years I started getting a lot of requests from students wanting to learn more R&B, Soul, Funk and Blues guitar. 
And I noticed there weren't enough resources out there teaching these styles of guitar playing.  
So I thought, "why don't I just do it?!" 
And that led me to create the Tasty Guitar YouTube Channel, which has over 70K subscribers 
from all across the world… 
On the channel I share all the ingredients of R&B, Soul, Funk and Blues guitar which make your playing a lot more tasty (hence the name) soulful, and authentic in these styles. 
And the channel has become known as one of THE best places online to learn these styles...
And because there's very few resources out there that teach this style of playing which is universally loved… 
I wanted to take things further…. 
So how does this unique method work?
I use what I like to call The RIFF method of teaching to get results. 
(R) Roadmap 
(I)  Interaction
(F) Feedback
(F) Fun!
First, you need the right ROADMAP to success
Today's world of "information overload" can drown you in a daunting sea of overwhelming frustration and confusion.
The worst part is, all this information leaves you feeling "lost"... 
It's a huge reason why so many guitar players quit! 
In fact a recent study by Fender found that a whopping 90% of guitar players quit within the first 12 months…
Getting good at guitar is not just about knowing the RIGHT things to practice… 
It's also about knowing what NOT to practice... 
And having a personalized roadmap, designed for your specific needs and goals as a guitar player, to get you where you need to go FASTER.
This roadmap gives you a series of steps… 


And when you follow these steps in the 
RIGHT order… 
You'll begin to climb up to new (and exciting!) 
levels in your guitar playing… 
It's that simple!
The problem is, you can practice all you want… but if you don't understand fully where your playing is currently at...
You won't find solid footing and you'll stay stuck on the step you're on. 
That's why when you become a Platinum member today, 
you'll get on a personal ZOOM call with me... *
On this call, we'll talk about your goals and dreams as a guitar player. I also listen to you play, and assess your current skills and knowledge on the guitar. 
At the end of this session, I create a personalized lesson plan that outlines the steps you need to take to put you on a path to success and elevate your playing…
And that means you get a course created specifically for YOU… 
Each lesson in my program is designed to get you to your playing goals faster
Having a personalized plan takes all the guesswork out of learning guitar… eliminates any confusion… 
Of course you will still have access to over 800 video lessons in the membership...
... but now you will know EXACTLY what to focus on!   
Every 6 months, we'll do a follow-up call to assess how you're doing with your progress and update your roadmap. 
Each Zoom session is recorded and added to your program, so you can always refer back to it when you need to — and it's also a great way to measure your progress. 
* Zoom assessment call eligibility starts after free trial period.
The next part of my method is getting INTERACTIVE
In order to get the best results for my students, I use Soundslice, state-of-the-art interactive learning technology.
Each and every video lesson you receive is powered by this technology, allowing you to easily play along at your own speed. 
You get to see each note as it's being played and the instructional video is perfectly synced with the TAB onscreen taking out the guesswork — and making it easy to follow along. 
This interactive technology has been a real game changer in guitar learning. 
Your lessons can be slowed down or sped up… 
You can transpose TAB/Notation to any key…
If there's any part of your lesson you need to focus on, you can easily turn it into a loop until you get it right. 
It makes learning those difficult licks or rhythms so much easier! 
Also, you can easily toggle between wide or close up view, just in case you're more of a visual learner wanting to get a close-up fretboard and left hand view. 
All full-length lessons also include integrated backing tracks. Allowing you to practice along and apply your new skills right away.
Best of all, you can use this technology on a laptop, phone or tablet… 
How you learn is as important to what you learn… 
And that's why this technology makes learning so much easier, so you never get lost or feel frustrated… 
Now this leads me to the next big benefit of the R.I.F.F. method and a big part of why this method gets results is...
You'll be able to — at any time — submit a video with questions or feedback on your playing directly from any lesson on the website.
Which means… 
Anytime you aren't sure if you're playing something right… 
Need to fix a mistake… 
Or you just want me to hear something you're playing… 
You can upload your question or video, and you'll get feedback from me. Or if you prefer to send a video in private you can do that as well.
This is VERY important, especially when you're playing Funk, R&B and Blues style guitar. 
The little nuances in timing and feel separates something that sounds just ok… to something that really grooves! 
Unless you're getting feedback from an experienced instructor, how are you ever going to know if you're playing something right? 
You're going to have me there… by your side… answering your questions, coaching you 
and motivating you… 
… And that's going to help push through any challenges and difficulties that can cause many guitar players to give up. 
Lastly — and it's something that I believe is the secret sauce to my Tasty Guitar program… 
FUN!
I make learning and playing guitar
When you join my program, you're going to actually look forward to practicing because you'll be having fun and enjoying the satisfaction of seeing your hard work pay off.
You can join fun monthly Live Workshops with your fellow members.  
   And share your opinions on music, gear and everything else guitar related in The Funky Kitchen members forum.
 And when you have fun, learning becomes easier and much faster.
Improving your playing will feel almost effortless… 
So many guitar courses and instructional programs make learning guitar so much harder than it needs to be. 
In the last 30 years teaching guitar, I've developed a proven and effective teaching method that never feels boring, overwhelming or overly-theoretical. 
It's my secret weapon for getting results — 
in the fastest time possible...   
It combines my RIFF teaching method as well as the fundamentals, intermediate and advanced techniques of R&B, Soul, Funk and Blues guitar playing.
And after many months of hard work, I'm excited to offer you an exclusive spot inside my Tasty Guitar Membership Program. 
When you claim your spot today in the Tasty Guitar Membership Program… 
You're going to get a personal 30-minute ZOOM call with me… 
On this call, I'll hear you play and talk about your goals and aspirations as a guitar player… 
Then I'll map out a personalized step-by-step roadmap, designed to quickly advance your guitar playing skills and really master R&B, Soul, Funk and Blues style guitar playing. 
You'll get access to state-of-the-art interactive guitar learning technology…
As well as ongoing feedback from me… 
Anytime you're stuck on something, or just wanna know how you're progressing, I'll be there to help guide you in the right direction and keep you on track. 
I guarantee your enjoyment of playing guitar is going to instantly skyrocket when you see the results you'll get. 
Learning guitar will no longer be a frustrating experience because this program makes learning guitar fast, easy and incredibly FUN! 
Here's what you're also getting inside the Tasty Guitar Membership Program… 
Rhythm guitar playing has always been an under-appreciated skill, you could even call it a lost art these days. And the fact is there is just not a lot of quality lesson content online in Funk and R&B/Soul rhythm guitar especially. But here at Tasty Guitar we are serious about rhythm guitar playing. After all, in most situations a guitarist will be playing rhythm 90% of the time.
The Rhythm Recipes are step-by-step progressive courses designed to take you anywhere from a novice to an advanced, gig ready player.
As you progress through the courses you will be challenged by "Side Dishes". These are well known songs in which you can put your newly learned skills to the test.
The Funk Rhythm Recipe - 45 Lessons
Here are just some of the things you'll learn inside
How to get that loose, rubbery wrist to instantly "funk up" your playing…

Do this #1 thing to lock into a groove and keep perfect time… WITHOUT needing a drum machine or metronome…

3 elements of groove that make you certified funk master (most advanced players miss one of these key elements)...

The revolutionary way of visualizing the fretboard, to have every funky little nugget... at your fingertips

Learn the "funky flutter" a transformative technique so important...and yet seldom if ever taught

Have fun learning and jamming along to funk classics while improving your groove and timing….

Plus much, much more…
The Blues Rhythm Recipe - 45 Lessons
Here are just some of the things you'll learn inside
Learn the 3 essential box patterns so many well-known shuffle blues tunes are based on…

Master the "SRV Texas Feel" and play lightnin' blues with a whole lot of attitude!

The "Charleston" rhythm is one of the most important blues rhythms to learn… and adds a jazzy flavor to your blues playing!

This piano style approach to blues rhythm will add some very cool flavors to your blues rhythm bag...

3 "tasty" jazz-inspired blues turnarounds to spice up your playing…

Get the the REAL lowdown on the minor blues and several ways of playing it...

Elevate your blues rhythm with advanced chord voicings, unique strumming patterns and MUCH more
The R&B/Soul Rhythm Recipe - 35 Lessons
Here are just some of the things you'll learn inside
How to get the legendary Motown sound in your playing while adding some new soulful techniques to your arsenal…

The "soul strum" is the secret sauce in R&B/Soul guitar playing… and you'll learn how to get the right feel and sound when playing this cool rhythm style…

The most important R&B/Soul chord progression you hear in some of the most iconic songs… And it uses just two chords!

Learn the famous "Memphis Sound" with a collection of the tastiest and soulful licks broken down in easy-to-follow steps…

Learn what's really going on in this Marvin Gaye classic song… almost everyone plays this guitar part WRONG!

Learn to build beautiful, soulful guitar fills with an entire module dedicated to this craft, a lost art!

Plus, Much, MUCH more
My Tasty Guitar method of lead playing is designed to make you comfortable improvising with complete freedom and feel in the Funk, R&B/Soul and Blues style. 
You're not only going to get a solid foundation and neck knowledge of the most commonly used scales in these style… you'll also improve your phrasing, articulation and feel. 
This is going to expand your musical vocabulary and make you a more confident and well-rounded guitar player.
The Lead Guitar Lessons
Here are just some of the things you'll learn inside
Learn the ingredients of guitar funk lead playing with a wide range of licks, tricks, techniques inspired by Johnny "Guitar" Watson, Grant Green, Eddie Hazel, and more…

This is not your average blues masterclass… because you'll learn not just the blues fundamentals, but how to jazz and funk up your blues playing which will give your solos some serious edge…

Give your solos new life by adding more groove and feel to your phrasing…

Go in-depth and unlock the Mixolydian & Dorian scales and learn a powerful technique that will have you applying them instantly...

Use my secret exercise regime for building more speed and accuracy in your 16th note picking…

My simple little trick for spicing up and multiplying your lick vocabulary 10X quicker…

Learn to "make the changes" by targeting chord tones through common chord progressions

Plus, Much, MUCH more
You'll get a solid foundation in the most essential fundamentals you need to know in order to make you a well-rounded guitar player. 
This will help really connect the dots and give you more command of the fretboard… helping you find the RIGHT notes and chords you're looking for.
You also have the ability to test your knowledge with interactive quizzes.
Diatonic triad and 7th chord construction

Understanding the major scale and its modes

How to use chord fragments in your playing

How to simplify complex chords quickly

Understanding note values and timing
PLUS… You get access to all these FREE Bonuses… when you claim your spot in The Tasty Guitar Membership Program today…
4 Amazing Tasty Guitar eBook Packages!
Get a Little Stank on it...
These 50 tasty little gems have the funky medicine you need to cure your tired un-funky solos. The licks combine healthy doses of syncopation, chromaticism, dynamics and killer phrasing sure to take your leads to the next level!
Say Goodbye To Cliched Blues Licks...
50 Cliche Free, Rut-Busting Funky Blues Guitar Licks! Take your blues vocabulary to a whole new level with these stellar licks that combine blues attitude with a more funky phrasing and feel.
Fills, Fills & More Fills...
This collection includes beautiful fills for ballads, jazzy fills for minor chords, super funky rhythms for funk and much, much more! With Performance Tips, helpful insights such as alternative fingerings, dynamics and strumming direction.
Get That Right Hand In Shape... No Pain, No Gain
25- 16th note picking exercises/licks focusing on the rudiments necessary to develop funky lead phrasing, accuracy and feel. This 25 minute video is designed as a start to finish play-along, an excellent exercise to get your right hand in serious sh
Plus… Monthly Live Workshops With Rick!
Each month you'll get to join me and members of the Tasty Guitar community for a live workshop via Zoom. This 90 min session features a 60 min in-depth guitar lesson followed by 30 min of open Q&A.
On this call, you can ask me questions and even vote on different topics you want to learn on these calls. You're going to have a lot of fun not only learning but also meeting your fellow funkateers! 
Each live workshop is also recorded and uploaded to the site for you to replay later if you missed it!
Here's what's included when you claim your spot in The Tasty Guitar Membership today…
Membership Includes:
Everything You Need For Next Level Playing
Over 800 Interactive Video Guitar Lessons

Monthly Live Workshops

Backing Tracks, Guitar Pro Files, PDFs, Progress Tracking & More!

Access to 4 Bonus eBook Licks & Fills Packages

50 Professionally Produced Backing Tracks – Courtesy of Petti Music Studios

One-On-One Assessment Call w/ Rick (Platinum members)

A Personalized Lesson Plan & Roadmap To Success (Platinum members)

Video Submissions & Feedback (Platinum members)

New Lessons Added Weekly
What Students Are Saying About The Course
..."(Rick's course) has really changed my practice, I find it very easy to practice every day now...I'm very happy with it and highly recommend it"!
Chris C - Platinum Member
..."my playing these days has far exceeded my expectations, I'm playing stuff that I never dreamed of playing"
Justin B - Platinum Member
..."It's just been an incredible journey and I've made more progress in the last 10-11 months than I made in the last 10 years... try it out"!
Justin H - Platinum Member
...Dont miss Justin's before and after video showing his AMAZING progress over the last year!
""It is hard to find great funk lessons, but I was lucky enough to come across Tasty Rick's stuff. Since then, I've been able to spend countless hours a week expanding my skill set. Beware though, because of Rick I got so good, I broke my Funk-O-Meter!!! #toostanky Zach C "
""Rick saved me from guitar mediocrity! He is THE SOURCE for soul, funk, R&B, and blues. He has a gift for breaking down all the bits and details that separates the greats from all the others…""
""After several years of plodding along with local guitar teachers, finding Rick Stickney was the absolute best decision for elevating my guitar playing skills…" "
What the Funk & R&B Legends are Saying About Tasty Guitar
"Great video for guitar players from Tasty Guitar Lessons on some licks I've used over the years" 
Steve Cropper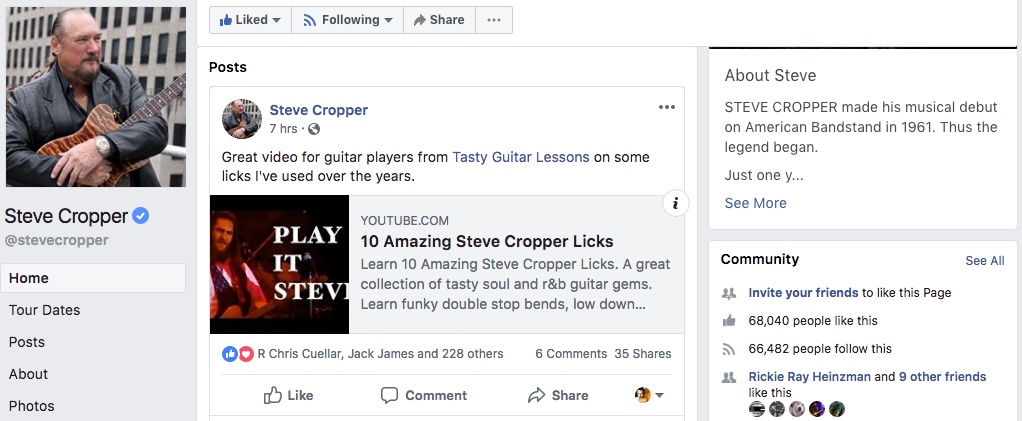 When I ran into legendary funk master Leo Nocentelli of The Meters at the NAMM show he said "You're the only one who has got it right"!
... and when "Bootsy" Collins shares your lesson you know this funk is legit!
Why spots in this program are only available 
for a limited time only…
In order to get these results, it takes up A LOT of my time and energy… 
I wish I could help every guitar player who comes to me but it's just not possible…
If I'm going to be working with you… I'm 100% all in and focused on making you the best guitar player you can be. 
Which means, there's a limit to how many people I can take on at a time…
If you're seeing this page right now, it means I have an opening for you today which may not be there tomorrow.
So this is a very time sensitive offer. 
Are you ready to take your guitar playing 
to a whole new level? 
I love working with passionate people and motivated people determined to improve their skill level on guitar. 
That's VERY important to get results in this program. 
I know my method delivers results… 
You can read all the testimonials on this page and watch some of the videos from members to know I get results…
So, I need to be 100% certain that you're ready to make the commitment to getting REALLY good at playing guitar…
Trust me, when you SEE, HEAR and FEEL the differences in your playing…
And when your guitar playing skills mesmerize a crowd full of people… 
Or even your family, friends...
You'll know you've made the RIGHT decision today.
Questions and Answers about The Tasty Guitar Membership Program…
I'm kinda a beginner on the guitar, is this program too advanced for me?

It depends. Although the course is primary aimed towards intermediate to advanced level players, beginners can absolutely still learn at Tasty Guitar. However you should at least be able to play open chords, barre chords understand basic strumming & picking technique.

I can see your lessons on YouTube, so why should I become a member?

There are huge benefits available as a member that you cannot get from watching YouTube videos. Firstly, all lessons in the program have Soundslice video to TAB sync which allows you to follow along, slow down, loop parts, play to backing tracks and much more. Plus you get a zoom call assessment and personalized lesson plan, video submissions and feedback, monthly live workshops, many member only exclusive video lessons and much more.

Do I have to do the assessment call? If I do one what will we talk about and how should I prepare?

The Zoom assessment call is not required, but absolutely suggested. We will first talk about your goals as a guitarist as well as the struggles you are having in reaching them. I will ask you a series of questions regarding your knowledge of different techniques and skills. I will then listen to you play, usually with a backing track or just on your own. After, I will discuss with you what I believe you need to focus on within the membership in order to make the quickest progress. I will then create a private course containing those lessons just for you. Of course you will still have access to all 700+ lessons on the site but the goal is to have you focus on what you really need to work on. Just have your guitar tuned up and ready to play. A backing track, looper or metronome are helpful as well but not required.

I'm more of a rock/metal guy, can I still learn at Tasty Guitar?

Tasty Guitar is all about Funk, Soul, R&B and Blues Guitar. Although many of the skills you can learn on the site are relevant to almost any music style. I really believe being a well rounded musician is a crucial thing. And if you want to add these styles to your arsenal there is no better place to do it.

I'm an advanced guitarist and have been playing a long time, what can I learn at Tasty Guitar?

In a word, FEEL. There is a reason your funk playing isn't funky, your blues ain't bluesy and your soul has no soul. All these styles have one thing in common, to play them authentically learning the right notes or chords is not enough…you need to learn to play them with right FEEL. At Tasty Guitar not only will you learn the scales, chords voicings, intervals and rhythms to play these styles…..you will learn to play with FEEL as well.

Sometimes I want to learn offline, are there lesson resources that I can use off the website?

Absolutely! Every lesson has downloadable PDF and Guitar Pro files that you can use offline or print. You can also print directly from the Soundslice lesson player. There are also 50 amazing studio-quality, downloadable backing tracks you can practice with offline, courtesy of Petti Music Studios.

What happens if I don't like the course?

I would be very surprised! I am very confident you are going to love the program but if you find it's just not for you just cancel from you student dashboard during the 7 day free trial period and you will not be charged. Members are billed month to month on the monthly plan, once yearly on the annual plan and can cancel any time, no questions asked.
For a Limited Time Get

25% off Platinum Membership w/ Coupon Code tg25off
Monthly now just $16.49
( $0.55/day)
Annually now just $149.99 ($12.50/month)